News
Celebrating Super Star Caregivers
In August 2016, Human Touch Home Care, ltd, instituted a 'SUPER STAR CAREGIVER' award. Nominations for this award are made by our Clients, who are asked to describe how their Caregiver's service has made a positive impact in their lives, or in the life of their loved one. Here are a few of the testimonies . . . read more about our Super Star Caregivers »
We are proud to announce . . .
Human Touch Home Care,LTD, founded in 2005, celebrated it's 10th anniversary in 2015, and is now in it's second decade of service to our community.
Look for the signs loved ones need aid
By Alex Wray
Springfield Sun
February 12, 2009
It is sometimes difficult to know when our aging parents, spouses or loved ones need help. We cherish our independence and may not want to ask for assistance even when we need it. Here are some warning signs that should alert you that a loved one or friend may have a problem. Being aware of these signs and seeking assistance before a crisis occurs is the best way to empower our loved ones, and give them the help they need to continue to lead a safe, happy life at home. Read the full article...
Elderly can count on a Flourtown family concern
By Nick Malinowski
Staff Writer
Springfield Sun
January 15, 2009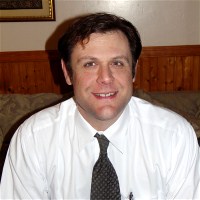 After graduating from Springfield Township High School in 1991, Alex Wray never would have guessed that he would end up working for his mother.
Wray, 36, is the general manager for Human Touch Home Care in Flourtown, founded four years ago by his mother, Bess Wray. Human Touch Come Care is non-medical home care registry that matches screened caregivers with elderly clients to help them with a wide variety of daily tasks, such as dressing, cooking, cleaning and driving. The need for these services is higher now that ever before, Wray said in an interview Jan 12.
Although Wray has a business background, he said his main attraction to the position centers around the idea of community service - a passion since his days on the student council at Springfield High, where he as active in organizing events at the school and in the township.
After graduating from Springfield, Wray attended Eckerd College in St. Petersburg, Fla., where he studied creative writing with an eye toward becoming a journalist.
He also studied Japanese, however, and moved to Japan on a work visa after graduating to teach English. "I really wanted to learn another language," Wray said.
There he met his wife, Miki, and also became inspired by the level of customer service many Japanese businesses employed.
"I have never seen, in my life, any place that [holds] the importance of service to the customer higher than in Japan," he said.
Wray suggested that this tradition might come from the emphasis on small, family-run businesses throughout the country. This experience "rubbed off," Wray said.
When I went to college I was thinking about being different than my parents, but when I went to Japan, I saw all the people working with their parents, and thought this would be a good thing," he said.
When he returned to the United States after four years, Wray enrolled in Drexel University to complete his business degree, which he started in Japan.
"At Drexel I began thinking about a career with a small business, an entrepreneurial business," he said. Luckily, he had one in the family, and he was soon employed by his father's Riders' Club, which provides transportation to elderly residents in and around Springfield Township.
About a year and a half ago, Wray was hired by his mother because of the growing need for at-home care in the region. "Everything I'v done, in a way, up to this point, has prepared me for what I am doing now." This is just another outlet for my ability to serve the community and serve the customer," he said.
The over-85 age group is the fastest growing population in the United States, Wray said, and more and more seniors are choosing to live at home for the comfort and because of the cost of hospital care.
"Seniors prefer to stay in their homes, hospital stays are shorter, and a lot of elderly care now takes place at home," he said.
In Japan, health care is funded by the government, and seniors do not struggle to afford care as they do in the United States, he said.
"Unless you've had the foresight to buy extended care health insurance, this is an out-of-pocket expense," he said. For this reason, Human Touch Home Care tries to keep rates as low as possible and provides a more affordable, flexible option to full-time assisted living or hospital care, he said.
Because both of his parents are involved with resources for the elderly, the Flourtown office on Chesney Lane has become a knowledge hub, Wray said, and he receives many phone calls each day on a wide range of care issues.
Wray lives in Hatboro with Miki and their two children, Anne, 6, and Jay, 4. They speak Japanese at home.
Erdenheim home care firm is booming, thanks to 'boomers'
by BARBARA L. SHERF
Chestnut Hill Local
Thursday, June 29, 2006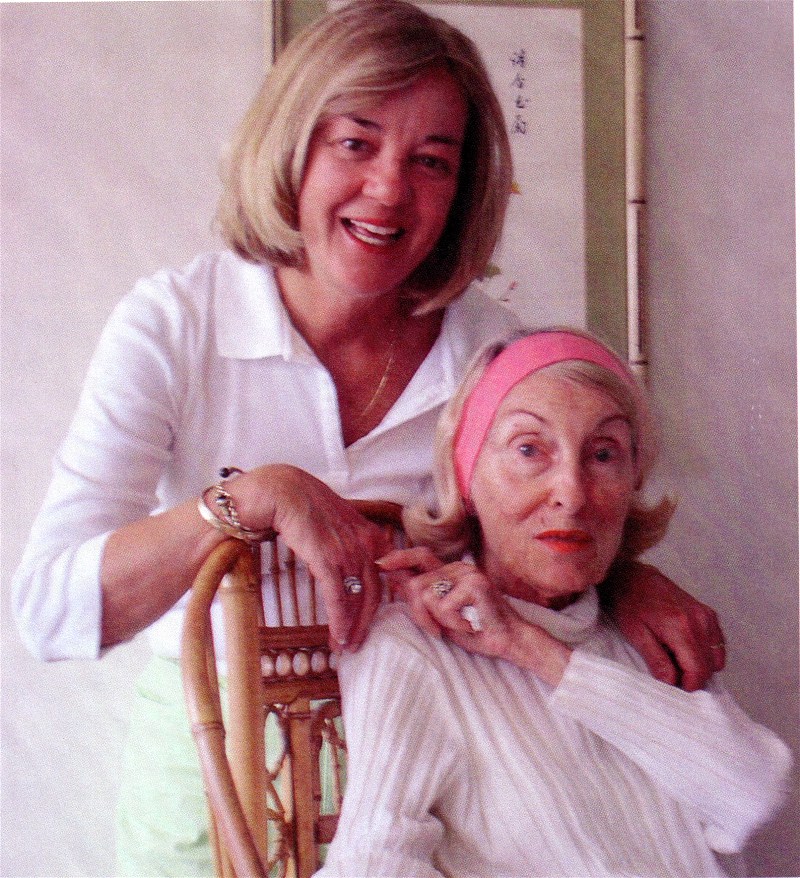 Chestnut Hill residents Pat Heenan,(standing) and Edith Orkin were brought together by the Human Touch Home Care Registry, based in Erdenheim.
(Photo by Barbara L. Sherf)
One year after she put out her shingle as a home care registry provider, Bess Wray says Human Touch Home Care is booming, thanks to the baby boomers.
Wray, works out of a small office along Bethlehem Pike in Erdenheim, retired after 20 years with a similar registry service - only to start the kind of firm.
"The census showed that the 85-plus population is the fastest growing portion of our society, and surveys show the overwhelming majority of senior citizens want to stay in their own homes. We're trying to make that possible".
Chestnut Hill resident, Edith Orkin, is one of them. At 87 years of age, she has a caregiver help her four hours a week doing errands, light cleaning and getting to and from doctors' appointments. Orkin, who has an arthritic hip, still cooks and does her own laundry, but she admits she need some help.
"She keeps me from falling says Orkin of her "little angel" in the form of Pat Heenan, also of Chestnut Hill. Pat retired from working for a telephone provider for 32 years, but still wanted to help others.
"I have another client in this building and three more in the area. I like helping them remain independent," Heenan said.
Orkin's two grown daughters have died, and her only remaining close relative is a granddaughter who lives in New Jersey.
While some clients need just four hours of service a week, others need 24-hour care. Wray says her registry is filling a need. "Our society is somewhat fragmented now. Immediate family members often don't live nearby, or if they do, many are working parents or just travel much more for their jobs. Hospital stays are shorter, and seniors are just living longer," Wray said. Because so many of her friends were calling her a humanitarian; she woke up one night and decided that "Human Touch" would be the title of her company.
Wray, who has a master's degree in Counseling Psychology and has done postgraduate work in Social Gerontology, is satisfied in her new role. "It's something I've wanted to do for a long time. My family has been very supportive of this whole endeavor."
Her husband, Paxton Wray, is president of the Riders' Club Co-Op, and they do spread the word about each other's services. "Often my clients have transportation issues, and I feel good about referring them to the Riders' Club." The couple who have lived in Springfield Township for 27 years and prior to that in Chestnut Hill, have three grown children and four grandchildren.
Wray and a daughter, who is in the physical therapy field in Boston, often talk about educating caregivers on fall prevention issues.
"Often these falls and resulting injuries can be avoided." she said. "I emphasize this with all of the caregivers." Wray, who has more than 50 caregivers in her local registry, is proud to say that she interviewed every applicant. "I feel I've found a wonderful group of caregivers. I feel like the conductor in an orchestra putting the audience and orchestra players together," she said. Human Touch Home Care serves Eastern Montgomery County and Northwestern Philadelphia. "I may open a second office along the way, but I don't want to get too big. "I don't see this becoming a franchise."
Events
Senior Fair at Keneseth Israel
August, 2017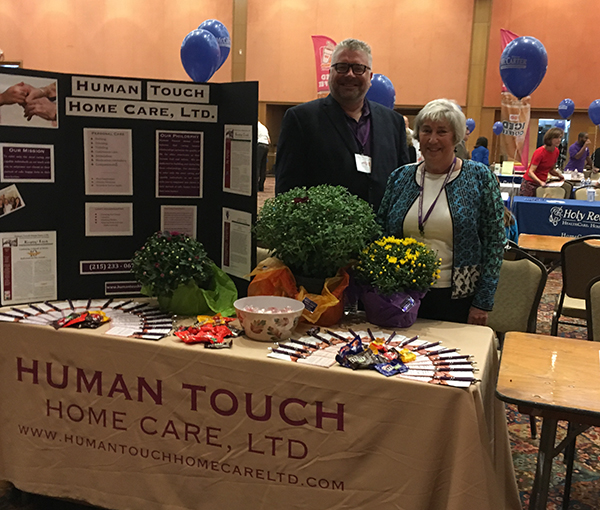 On Thursday, 8/31/17, Human Touch Home Care was one of the exhibitors at the Senior Fair at Keneseth Israel, in Elkins Park, sponsored by State Senator, Steve McCarter. Pictured are Dave Zee, Manager of Human Touch Home Care, LTD. and Judy Dorsheimer, our Community Liaison.


10th Annual Friends Life Care Award Ceremony
November, 2015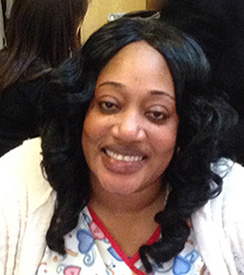 On November 19th, Keisha Greenfield, pictured here, was honored at the 10th annual Friends Life Care 'Best of Friends' awards luncheon. This celebration honors Caregivers who have given exceptional service to Members of Friends Life Care.



9th Annual Friends Life Care Award Ceremony
November, 2014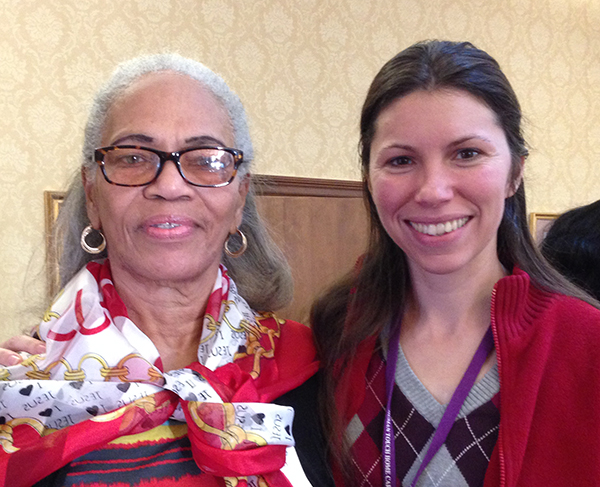 Friends Life Care Best of Friends 1st Place winner Hyacinth Clarke (left) and Human Touch Care coordinator, Marie Crosby at the 9th annual Award Ceremony honoring exceptional Caregivers . KUDOS to Hyacinth!
Rotary Club of Chestnut Hill - Third Annual Chili Cookoff
April 7, 2013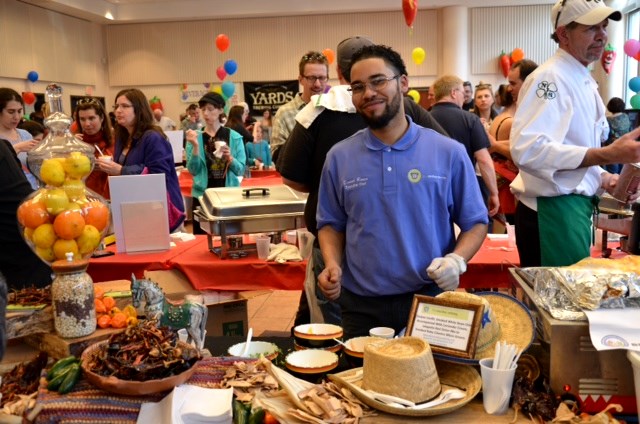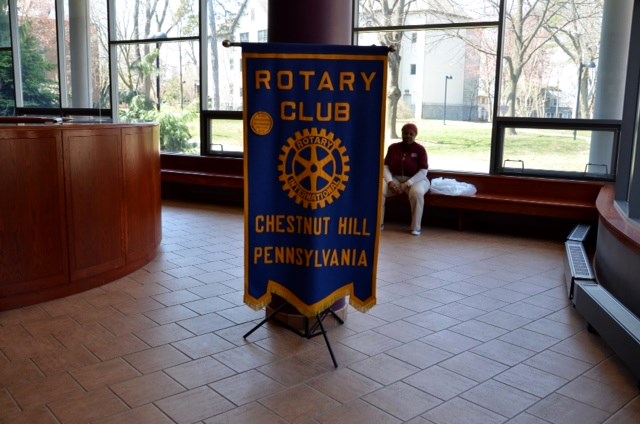 Human Touch Home Care was proud to be a corporate sponsor of the Rotary Club of Chestnut Hill's Third Annual Chili Cookoff which was held April 7th at the Brosman Center at the Lutheran Seminary on Germantown Avenue.
Network Connections Holiday Luncheon
December 4, 2012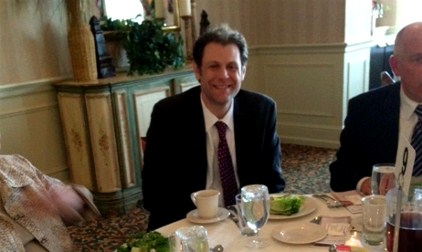 Alex Wray (General Manager, Human Touch Home Care, Ltd.) at the Network Connections Holiday Luncheon in Blue Bell.
Friends Life Care 7th Annual "BEST OF FRIENDS" Awards Luncheon
November 14, 2012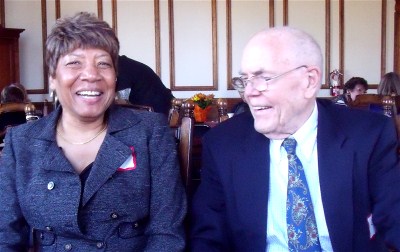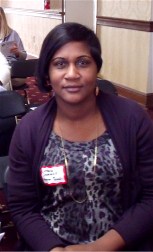 (left) Award Recipient Connie Jenkins with her client, Mr. W. and (right) Award Winning Caregiver Cordelia Cromwell.
Bess Wray was proud to attend the 7th Annual Best of Friends Luncheon on 11/14/12., with two of the four caregivers from Human Touch Home Care who were honored as "exceptional home health aids, the unsung heros of the home care industry who demonstrate professionalism by the quality of care they provide to members of Friends Life Care."
"Honoring our Centenarian"
October, 2012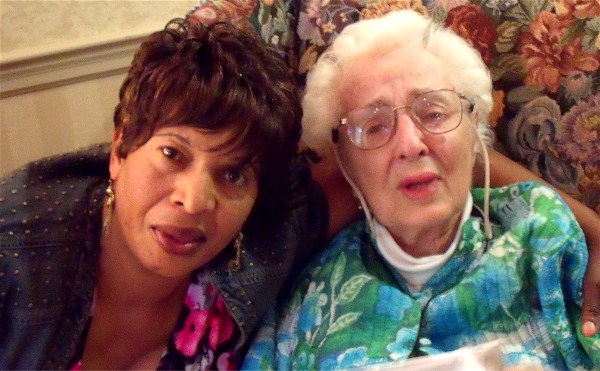 Human Touch Home Care referred caregiver, Miss. S., and her client, Caroline, at Caroline's 100th Birthday celebration in October. HAPPY BIRTHDAY, CAROLINE!
Friends Life Care 6th Annual "BEST OF FRIENDS" Awards Luncheon
November 15, 2011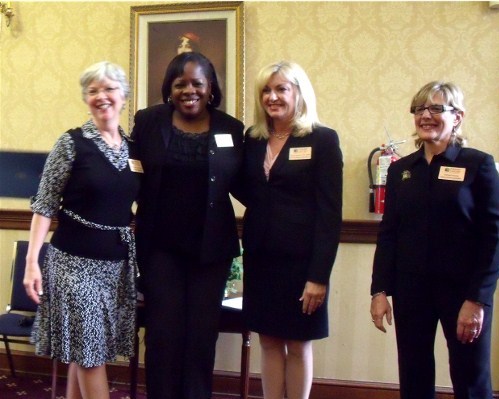 Human Touch Home Care referred caregiver, Rosalind Jefferson (2nd from left), was honored for her outstanding effort to her client, a member of Friends Life Care, at the 6th annual Best of Friends award ceremony.
Friends Life Care 5th Annual "BEST OF FRIENDS" Awards Luncheon
November 17, 2010
On November 17th, Alex and Bess Wray attended the Friends Life Care 5th annual "BEST OF FRIENDS' award luncheon. This event honors the very best Caregivers in the past year who have given outstanding service to Members of Friends Life Care. The winners are selected by recommendation from Members of Friends Life Care and the Friends Life Care case managers. It was a lovely celebration made especially wonderful for us since two of this year's winners were referred by Human Touch Home Care, LTD.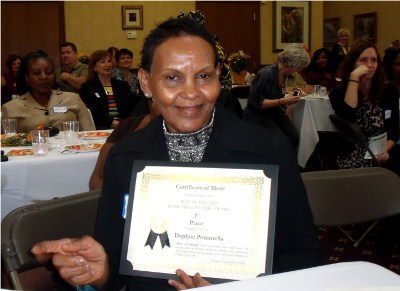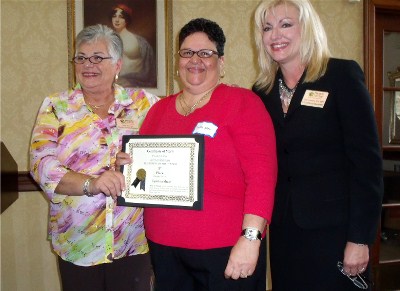 The 2010 winners are: First Place Winner in the Live -in Category: DAPHNE POMMELLS (above left)
Third Place Winner in the Live-in Category: CYNTHIA SHAW (above right)
First Annual Montgomery County Centenarian Celebration
May 21, 2010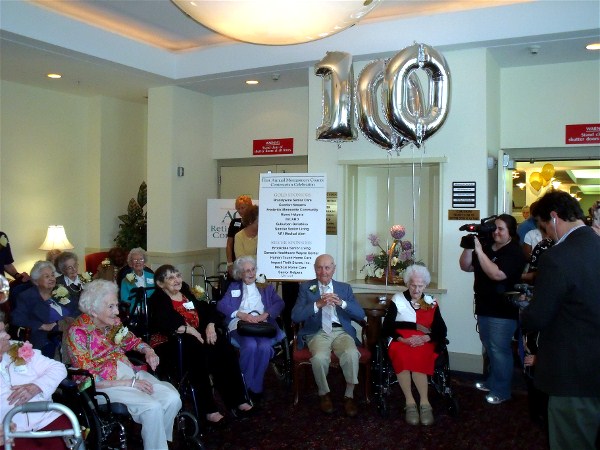 Human Touch Home Care was proud to be a Silver Sponsor for the "First Annual Montgomery County Centenarian Celebration", held on May 21, 2010. It was a pure joy to share the history and experiences of these very
Friends Life Care at Home's Best of Friends awards
March 06, 2009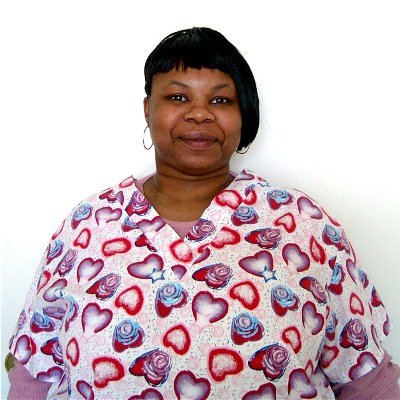 Human Touch Home Care is proud to announce that, for the second year in a row, 4 Caregivers on the Registry were recognized by Friends Life Care at Home's Best of Friends awards program for " outstanding performance". Best of Friends recognized these Caregivers, calling them 'unsung heroes', for "professionalism and the quality of care they give" to members of Friends Life Care at Home. Congratulations to Jessica Ayrton, Annie Louise Reid, Cecelia McGill and Taisha Bland.
Human Touch Home Care is based in Flourtown, Pa. and is dedicated to empowering older Americans in their pursuit of safe happy lives at home by referring very carefully screened, highly qualified Caregivers to assist with non-medical in-home care.