Stay at home with help from
Human Touch Home Care, Ltd.
Services Include
Personal Care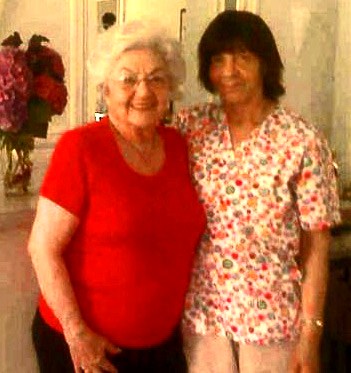 bathing; skin care; oral hygiene; dressing; toileting and continence care; ambulation assistance; medication reminders; socialization
Light Housekeeping
changing bed linens; laundry; washing dishes; keeping client's bedroom and bath clean and tidy
Meal Preparation and Grocery Shopping
incidental transportation, shopping and appointments; affordable, flexible help for your loved ones
KEEPING IN TOUCH Articles
by Bess Wray
HUMAN TOUCH HOME CARE, LTD. has over nine years of experience referring carefully screened and very dedicated live-in (round-the clock) Caregivers to our clients. The demand for these wonderful Caregivers has increased as more seniors remain in their own homes and 'age in place' in the comfort and security of familiar surroundings. As difficult as it may be for you or your loved one to make the decision to have live-in care, it is a very affordable way to provide round-the-clock coverage for those who should not be alone. HTHC, LTD. can set up live-in care so that you or your loved ones enjoy ... read more »
Falls are a Major Cause of Injury among Seniors
You can prevent falls.. Read our Fall Prevention info here and then follow this link to read more about Fall Prevention
Celebrating Super Star Caregivers
In August 2016, Human Touch Home Care, ltd, instituted a 'SUPER STAR CAREGIVER' award. Nominations for this award are made by our Clients, who are asked to describe how their Caregiver's service has made a positive impact in their lives, or in the life of their loved one. Here are a few of the testimonies . . . read more about our Super Star Caregivers »
When loved ones need aid
It is sometimes difficult to know when our aging parents, spouses or loved ones need help. We cherish our independence and may not want to ask for assistance even when we need it.  Based on careful listening to your needs, Human Touch Home Care's customized non-medical services for those with physical and/or cognitive impairment, and for those recovering from illness or fracture, will adapt to your changing non-medical care requirements.
Please call us today at (215) 233-0676
Hear What Our Clients Have To Say
Judith W.,the Human touch referred Caregiver, is fabulous. She is an angel. I am so thrilled with who she is as a human being, how caring she is, how competent she is, how clear she is, how loving she is. All of those things. I think your rates are quite reasonable considering the combination of competency, care and love. It's priceless. I couldn't be happier.

I could not have done this without Cecile ( HTHC referred Caregiver). She was what held it together. ...you need people in your life who are remarkable and Cecile was remarkable. She is very caring and goes the extra mile all the time. This is one of the hardest cases we have and she took it graciously. I can't even give her a present that would make up for what she has done ( for her client). I call her Saint Cecile.

Marie, ( the care-coordinator) has made my life so much more pleasant. She is a great representative for Human Touch. She has helped me in 10 different ways. It's not easy having a husband who needs caregivers, but Marie has made my situation so much more bearable.

My wife and I were very blessed when Lowanna was sent to us. She is very dedicated and comes on time or early every week. She knows just what is needed to help me. This weekend she helped me organize photos for a celebration of my wife's life. That was difficult for me but Lowanna was wonderful. She is an angel from Heaven.

Antoinette has been wonderful to my mother, Alice W. . I don't know what we would do without her. My Mother's health has been improving due in no small part to Antoinette's care. I feel completely confident in having her here with my parents. It is just so good not to have to worry while she is here.

Val is really quite careful about so many things and if I call her, she comes to help me right away. And she is very patient. I am very grateful for that and really very satisfied with the care. Many people have commented how much happier I seem now. And that certainly makes me feel good too. Having Val has made a big difference.

I just want to say 'Wow'. My mother's face lit up when she saw Selma. I couldn't have imagined a better fit. You've just taken my breath away.

Dad and I enjoyed meeting with you ( Shawna ,HTHC care-coordinator). We feel like we made a new friend in addition to getting our questions answered. We have decided to go with Human Touch. The time you took with us and your genuine care and concern made it a much easier decision.

Regina is exceptional in every way shape or form. She has a rare quality of being able to think of my uncle's needs and my needs as a family caregiver. She is thoughtful and communicates very well with me. My uncle has improved dramatically since she has been taking care of him. I feel blessed to have Regina as a caregiver.

Human Touch has been wonderful. I was so worried about my husband [being cared for, knowing I would be in the hospital] and Human Touch Home Care really came through for me. All the ladies you have referred have been very nice and well qualified.

Selma is an outstanding caregiver. She is smart, capable, and willing to provide whatever help is needed. We are extremely happy.

We love Marie (the Human Touch Home Care referred caregiver) and want to keep her forever. She provides wonderful care and companionship. We laugh together and our life is much less stressful because of the help she provides.

Hyacinth is a beautiful person. Before she came I was lonely and scared, but now that she is with me I am safe and I feel confident. And she fixes me delicious meals.

Human Touch Home Care provides such a wonderful service. I know my mother is in good hands because every caregiver you have referred to us has been excellent.

We are delighted with the care provided by Irene. She is excellent in everything she does and in an emergency is calm and effective. We are pleased with all the Caregivers who help my parents. They are a wonderful team.

I will refer Human Touch to anyone who needs help. You guys are the best.

Doreen is a terrific Caregiver and possesses all the qualities you could ask for. She has a good heart, is scrupulously honest and provides wonderful care.
read more Testimonials »
FAQs
Are the Caregivers referred through your company bonded?
Yes. All caregivers are bonded and insured. But it is our multi-step proprietary screening process of all prospective Caregivers which is the best possible guarantee that the Caregivers referred through Human Touch Home Care are honest, caring and capable.
How do I know a company is a good one?
Any company you consider should be licensed by the Pennsylvania Department of Health, which means it conforms to State regulations designed to protect the safety of all consumers of in-home care.
How long has the home care company been in business?
This is important because it takes time and skill to find qualified caregivers and gain the trust of a diverse health care community. Be sure to visit the website of any company you are considering. Human Touch Home Care, Ltd. was founded in 2005, and has built its reputation by referring only the most honest, caring and competent Caregivers. Our website includes many testimonials from thankful families who feel fortunate for the help their loved ones have received through the HTHC registry. Their words are powerful endorsements.
What is the cost of care?
Prices vary greatly from company to company, even among those providing the same type of services. Because we are not a franchise and pay no fees to a larger corporation, we are able to provide first-rate service for an incredibly low price. HTHC referred caregivers are paid more than many others and this gives us an advantage when seeking the best caregivers for our clients.

For more information about our Services and Rates, and to see our current Published Rates ».
What are the qualifications and experience of your office staff?
Our care coordinators work with clients, families, Caregivers and other professionals in the community. They are knowledgeable and have the ability to identify which Caregivers' skills and personality will be an excellent match for a given client. Being able to adapt to the changing needs of numerous clients on a daily basis requires resourcefulness, flexibility, genuine respect for others, and strong problem solving skills. Each of our HTHC staff is highly educated and well trained. The combined experience of our owner and general manager totals over 35 years.
What if I have long term care insurance?
Your insurance company can be an excellent resource. They will communicate with you and the care provider to insure that you receive the best care possible. HTHC works closely with some of the most respected long-term care insurance companies in the region and our staff can assist in finding out what criteria an insurance company uses to determine whether a policy holder will be eligible for benefits. Since these companies have the option of working with only the best home care companies, their confidence in us is more evidence that we deserve your trust.