Newsletters & Articles
What You Can Expect During the Pandemic
excerpt from March 2021 Keeping In Touch Newsletter
Here are the steps all Caregivers should take during the pandemic. Please expect your Caregiver to do the following:
Before arriving at your home each day your Caregiver should use a Covid-19 'Daily Symptom Screen.' Caregivers should call the office and request a sub if they are sick, or experiencing any symptoms listed on the 'screen'. In other words, expect your Caregiver to stay home if she is sick!
After arriving at your home every day, expect your Caregiver to follow CDC guidelines for infection control:
-Wear a mask at all times in your home
-Wash their hands frequently with soap and water for at least 20 seconds
-Practice social distancing except when giving personal care
-Wear disposable rubber gloves when giving personal care or fixing meals
-Disinfect frequently touched surfaces

Read more Download the PDF
We're Open And Here To Help You!
Home Care is 'essential' and probably more important than ever.
During these days of uncertainty, we at human touch home care, want you to know we are open and waiting to help.
Our referred caregivers help with everyday activities such as bathing, dressing, med reminders, ambulation assistance, grocery shopping , laundry, meal preparation and more.
Our mission continues and we want to help…
Since 2005, human touch home care has never wavered in its commitment to helping our clients remain in the comfort and security of their home. We believed then and we believe now more than ever, that as we age, we are happiest and safest in our own homes.
Call us at 215-233-0676 to see how we can help you.
Bess Wray - Owner
Celebrating Super Star Caregivers
In August 2016, Human Touch Home Care instituted a "SUPER STAR CAREGIVER" award. Nominations for this award are made by our clients, who are asked to describe how their caregiver's service has made a positive impact in their lives. Here are a few of the testimonies written by our clients, nominating their caregivers to be recipients of our SUPER STAR CAREGIVER award. Congratulations to Ruth Koroma, Lucille McIntosh, and Joan Walker, three of our very first winners.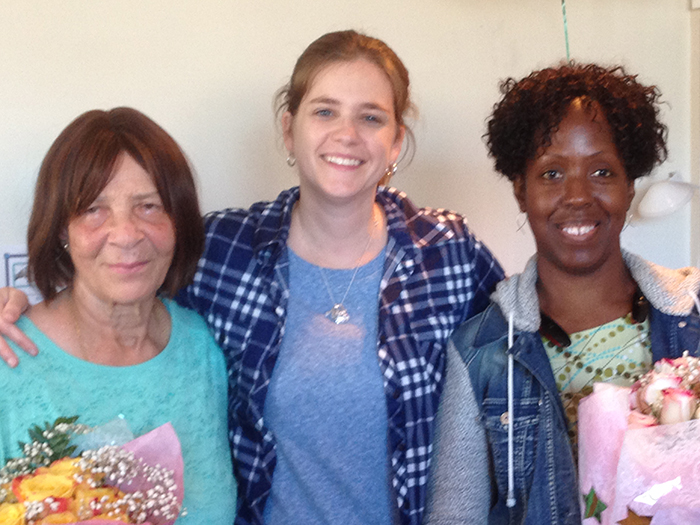 Two of our Super Star winners, Lucille McIntosh (left) and Regina Durant (right) pictured with Human Touch care coordinator Shawna Coles (center).
Here are the Nomination letters written by their Clients
"Joan has been working for us for over two years and she has a very pleasant personality. She has a positive attitude and helps my wife Ann get a shower and get dressed plus doing some light housekeeping. Joan also helps me with the distribution of Ann's medication and enables me to get out of the house every day. In particular she enables me to play golf on Thursdays and Fridays. This is a big help for me as I can't take care of Ann without help. Joan is a very caring person and she treats Ann like she was her mother. We are very happy to have Joan as our caretaker." Client, Tom C.
"Lucy should certainly receive the Super Star Caregiver recognition. She is kind and understanding of our situation with my mother's brain cancer, which, among other things, limits the amount of emotion shown. She knows how to give my mom space when needed and also when to be firm in her care for mom. She has been readily available for us and extremely reliable. She has been able to handle the physical demands of what has become a deteriorating situation. Lucy really cares and that is the key." Joseph C.
"Ruth Koroma encompasses a wonderful combination of traits that make her a "super star" caregiver. She is smart, caring, principled, calm, and hard working. She provides excellent care to our mother under difficult circumstances.

"Ruth began to take care of our mother about 3 months ago. Our mother has advanced dementia and resides in a dementia unit within an assisted living facility. She has challenging behavioral issues. Ruth quickly learned about my mother's likes and dislikes and the best way to approach her in order to provide the best care possible. She requests the foods that she knows my mother likes, can convince her to take her medicine when no one else can, and reassures and calms her when she's scared. Ruth is never afraid to speak up when she has a concern or alternative approach. Always with dignity and respect, Ruth takes care of our mother like she's her own family member. She has been eager to know our mother's history and recognizes and appreciates all of the years that my mother was a vibrant woman, mother, wife, sister, and grandmother. Our mother likes Ruth and responds well to her.

"As her family, we will forever be grateful for the exceptional care that Ruth provides to our mother. When Ruth is with her we feel confident that she is well cared for and safe."

Thank you, Barbars S. and Joanne H.
from our Keeping In Touch Newsletter -- September 2014
Recently, HTHC founder Bess Wray, had the opportunity to hear Catherine Piersol, the Clinical Director of Jefferson Elder Care, speak at a meeting of the Professional Care Alliance of the Delaware Valley. Dr. Piersol specializes in caring for individuals suffering from Alzheimer's Disease and other types of dementia. She explained some concepts that can be very helpful when we are trying to engage individuals with cognitive loss in activities. By understanding the concepts listed below, caregivers, both family and professional, can engage clients with even severe dementia in activities that can help reduce agitation and restlessness.
Lack of Initiation
Elders suffering from dementia may not have the cognitive capacity to initiate their favorite activities anymore, so the family member or caregiver will now need to "set-up" the activity. For instance, Mom may not be able to go out and garden, but if you fill a watering can and start the process, she may be prompted to take over, and water her favorite flowers with just a bit of supervision.
Promoting Participation and Modifying Complexity
Try to tap into an existing or previous interest. Sweeping with a broom is an activity even some clients with advanced dementia love if their caregiver begins the activity for them. This activity is no longer meant to clean the kitchen, but rather to direct the elder's energy into an enjoyable activity. If Mom loved to go shopping but can't anymore, she may enjoy matching and pairing socks. It's okay to relax the rules. If Dad loved jigsaw puzzles but can't manage the complexity of a 500-piece puzzle anymore, try placing a simpler puzzle (with large bold colored pieces) on a table and let him work at his own pace.
Redirection
If your loved one has acquired negative behaviors, use 'redirection' to turn the behavior into a positive activity. For example, rummaging through the trash can be turned into a stimulating activity if the trashcan is removed and in its stead, Mom is directed to 'rummage' through a special drawer with scarves, socks, and gloves. Dr. Piersol explained that the best way to communicate with individuals with dementia is to speak slowly, and offer a visual cue at the same time as the verbal one. For example, when asking the elder to 'stand up', extend your hand in assistance.
_______________
For more information on this topic, visit the Alzheimer's Association's brochure "Activities at Home: Planning the Day for a Person with Dementia" at https://www.alz.org/national/documents/brochure_activities.pdf
from our Keeping In Touch Newsletter -- September 2014
The Visiting Nurse Associations (VNAs) sends nurses and other health care professionals to help "home-bound" seniors with medical care. A senior is considered "home-bound" if he or she is unable to leave home without considerable and taxing effort.
The VNA is a valuable community resource for teaching about medical self-care, monitoring new medical conditions, observation and therapy. In most cases, Medicare covers VNA visits.
Our senior population could be eligible for VNA visits by a RN or other healthcare professional, such as an occupational therapist or a physical therapist, if any one of the following conditions exists:
The individual has just returned home from the hospital or rehab center;
A new diagnosis has been made;
The existence of chronic conditions (e.g. diabetes, cardiac conditions, high blood pressure);
Skin conditions such as pressure sores or bed sores, or even redness on a pressure point which could indicate the beginning stages of a bedsore;
Multiple medications or new medications have been prescribed;
Wounds, tubes, drains and special treatments that require care;
Depression, anxiety or sudden changes in cognitive state;
Evaluation of need for rehabilitation services in the home (such as physical therapy);
Mobility issues and/or the need for assistive device such as a walker or cane;
A home safety evaluation based on any new medical conditions or weakening abilities.
Under some conditions, such as a hospitalization, your physician or hospital discharge planner should make the referral for VNA home care services for you. But if you think you need help from the VNA, you can call them directly. Just make sure they contact your primary doctor to get the required referral so Medicare can cover the cost.
These services do not take the place of non-medical Caregiver services such as the referral services provided by Human Touch Home Care, LTD., but are often provided in collaboration with us.
When we are able to put together a team – the family support system, the non-medical Caregiver, the VNA, and your doctor – our clients receive the best possible care at home
You can prevent falls.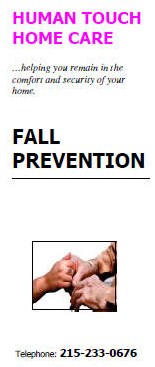 Human Touch Home Care is a registry of carefully screened caregivers who provide non-medical services such as:
Personal care
Light housekeeping
Meal preparation and grocery shopping.
These services help those with physical and/or cognitive impairment, and for those recovering from illness or fracture. An important part of our Mission is to empower our clients in their pursuit of safe, happy lives in their own homes. Falls can lead to injuries such as hip fractures that too frequently result in loss of independence, but you can takes steps to prevent falls.
Make yourself fall proof
Exercise: Improved muscle tone and balance can help prevent falls. Tai chi is especially good for enhancing your sense of balance. Consult your physician before starting a new exercise program.
Review medications with your physician and limit alcohol consumption: Many over-the-counter and prescription medications can cause dizziness. Alcohol can cause unsteadiness.
Check vision: Ensure that your vision is as good as it can be so that you can spot potential hazards.
Check hearing: Inner ear problems can disturb balance.
Dress for safety: Avoid long robes and coats. Wear low-heeled shoes with rubber soles.
Enjoy safe outings
Companionship: Let someone else be an extra pair of eyes when you go out.
Street smarts: Watch for uneven pavements and sidewalks.
Good timing: Plan to avoid crowded sidewalks at rush hour and lunch time.
Lighting: Walk in well-lit areas or schedule events for daytime.
Deliveries: Have packages delivered to your home, so you can keep your hands free while shopping.
Useful tools:
Walker
Cane (with pick during the winter)
Low-heeled shoes with rubber soles or ice grips depending on conditions.
Sunglasses to avoid glare
Make your home fall proof
Lighting: Make sure you have adequate lighting when you get up at night.
Tripping hazards: Remove all scatter rugs, toys, and other clutter, especially from stairs.
Useful tools: Use stair railings and bathroom grab bars. A rubber bath mat, shower stool, and raised toilet seat, add to bathroom safety. Use a cane or walker for stability. Have a basket added to your walker.
Reminder: Your physician can make a referral for a PT or OT to evaluate your fall risk in your home. Talk over these suggestions with your family and physician to find out if they have additional suggestions for your safety.
by Bess Wray
HUMAN TOUCH HOME CARE, LTD. has over eight years of experience referring carefully screened and very dedicated live-in (round-the clock) Caregivers to our clients. The demand for these wonderful Caregivers has increased as more seniors remain in their own homes and 'age in place' in the comfort and security of familiar surroundings. As difficult as it may be for you or your loved one to make the decision to have live-in care, it is a very affordable way to provide round-the-clock coverage for those who should not be alone. HTHC, LTD. can set up live-in care so that you or your loved ones enjoy continuity of care with usually just two individuals covering every day-one during the week and another on the weekends.
To make the live-in arrangement as comfortable as possible for you, expect your Caregiver to accommodate your schedule so that you can stick to your routine as much as possible. If you are used to being up early and having breakfast at a certain hour, expect your Caregiver to adjust her schedule so that she is up and dressed and ready to attend to your needs at your preferred time. The same thing applies at bedtime. You should expect your Caregiver to help you get ready for bed at your chosen time, and stay up to assist you until then. Expect your Caregiver to attend to your needs during the day, and to get up with you to assist you at night, if you only need help once or twice during the night, for short periods of time. In addition, the live-in Caregiver will perform a wide variety of simple household tasks for you, such as making beds, doing laundry, purchasing and putting away groceries, feeding pets, preparing meals, washing dishes, and of course, assisting you with your non-medical personal care needs. In order for a live-in arrangement to be successful, it is best to have a spare bedroom or a den which you can convert to a bedroom so your Caregiver has privacy. Having a live-in Caregiver enables family members who work full-time to pursue their careers knowing their loved one is safe and well cared for.
Click here for more information about our Services and Rates, and to see our current rates ».
For more information, contact us at 215-233-0676
Human Touch Home Care, LTD. is LICENSED IN PENNSYLVANIA
March 13, 2010
Dear Clients and Friends, I am proud to announce that Human Touch Home Care, LTD. is now LICENSED IN PENNSYLVANIA by the Pennsylvania Department of Health, to operate as Home Care Registry.
I have always been and continue to be grateful for the trust you have placed in me and in Human Touch Home Care, LTD.
Sincerely,
Bess Wray
President
Why Our Clients Continue to Be Pleased
2008
HTHC is not a franchise but is family-owned and operated. Part of what makes HTHC successful is our determination to recognize the uniqueness of each of our clients and then refer a compatible Caregiver who is professional, experienced, and kind.
These special Caregivers are carefully selected and screened. The screening process for each prospective Caregiver includes the following:
In-depth face-to-face interview
Pennsylvania Criminal Background Check
Verification of eligibility to legally work in the United States
Thorough reference checking
Annual TB test
Competency test
One of our top priorities is to maintain a high level of quality care. To accomplish this, HTHC Conducts periodic home visits free of charge to provide oversight and help out clients reassess their non-midical home care needs; listens to our clients' questions and concerns; encourages clients, Caregivers, family members, and other professionals involved in our clients' care plans to communicate carefully with each other; selects Caregivers who have been trained and/or are Certified Nursing Assistants; refers replacements on short notice if a client's Caregiver needs time off; pays Caregivers competitively to attract the highest caliber individuals.
OUTDOOR FALL AND INJURY PREVENTION
The areas outside my doors, patios, porches, steps and walkways are well lit.
The handrails on both sides of all my exterior steps are secure and in place, and most importantly, I use them!
The patios, porches, steps and walkways around my home are clear of obstacles and in good condition (loose or broken steps have been repaired).
I am extra careful when surfaces are wet or slippery outside.
Check list from www.tvfr.com.
Article Archive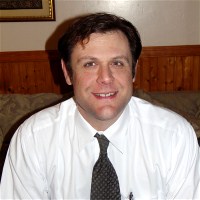 follow these links to read or print our articles from PDF
Human Touch Home Care Ltd. Experts In Live-In Care by Bess Wray
Newsletter Archives
Follow links to read our archived newsletters here
Keeping In Touch -- March 2021 (PDF)
Keeping In Touch -- August 2015
"Celebrating a Decade of Service!" (PDF)